Cai Guo Hua
2010年6月8日(火)― 6月25日(金) 11:30~19:00 [日休]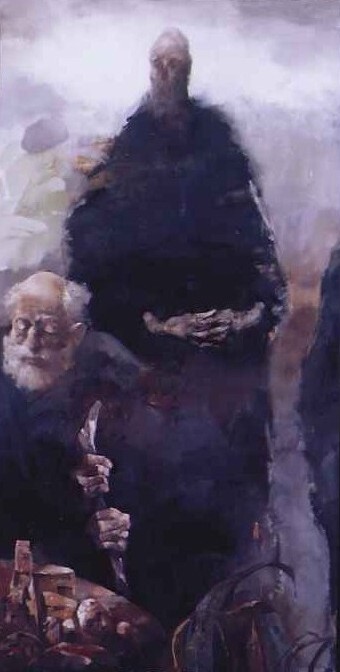 "Come and Go" (Section) Prophets
Since coming to Japan more than 20 years ago, Cai Guo Hua has been diligently polishing his skills daily, and steadily rising up the stairs of his artistic life step by step. Not one to be seduced by temporary fads, Cai repeats a strict routine of painting day in and day out. His unwavering discipline leads one to think that he may one day understand the true essence of paintings, just like a monk who suddenly attains enlightenment, and moves the hearts of people.
From Cai's work, which portray human relationships and confirming one's existence through painting, we can feel the poignancy of meeting people and new discoveries.Behind his works lies the message that human bonding, intimacy and sympathy which transcend geographical boundaries and ethnic identities are important.
Beginning with his life work, "Come and Go", this exhibition showcases mainly pieces from his representative series, "Expression" and "Wish", and some new pieces, arranged according to different themes on the different floors. This is the first time Cai Guo Hua is holding a solo exhibition at our gallery and we are delighted to invite you to enjoy a part of his refreshing art.
| | | |
| --- | --- | --- |
| "Come and Go" | (section) Oil painting | 2002 - |
| "Expression" | Acryl | 1996 - |
| "Wishes" | Acryl | 1997 - |
| New works | Total | Total 20 pieces |